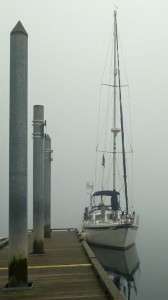 Location: Taku Harbor to Hobart Bay
Weather: Calm, Fog, 48 F.
We decided that the combination of heavy fog and a non-working radar were enough to cause us to stay in Taku another day, so we took the dog for a walk over to the old cannery site.
But within the hour we noticed the fog was lifting, and we could see across Stephens Passage. We departed about 1045 hours, our intended destination: Hobart Bay.
During the journey, the weather forecast deteriorated, calling for southerly winds 15-20 knots by late afternoon, with 3-4 foot seas, but we saw glassy water most of the way. At Glacier Bay we saw some icebergs and stopped to fill the icebox and ice chest.
By the time we were in sight of our destination, about an hour out, the weather front hit us and we had a lumpy, wet ride into Hobart Bay. Fortunately, the cove at entrance island was snug and secure, and we were the only boat. The state float was a nice alternative to anchoring out.