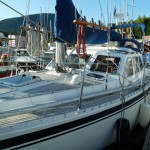 Location: Ketchikan
Weather: Rain, wind, cool
It's Labor Day today, and the weather is a reminder that fall is nearly here. The silver salmon have been in the creeks for a few weeks, and deer season is open. It's also time for us to depart for Puget Sound.
We have just a few items left on our pre-departure list, and should be on our way by mid-week if the weather holds. We expect to keep a leisurely pace, arriving in the Puget Sound area by about the last week in September.
For family and friends who will be following us, this blog is the best way to see where we are and what we're doing. We will be updating this website daily whenever possible, so keep checking back.