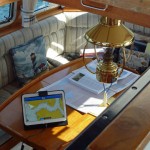 Today we stayed in Port McNeill.  By the time we were done provisioning, relaxing and calling relatives we decided that a "lay day" was in order.  We did some needed maintenance and by mid-afternoon the fog was rolling in from the north again.
We like Port McNeill–last time we were here (eight years ago) we were stormed in for several days.  Some of the same coffee shops, stores and other amenities are still here, though the place has grown somewhat.  We stayed at the private marine in town (North Island) which is a little more expensive, but with a free courtesy car, Internet access, and really friendly folks.
Today we managed to get a phone card (from the post office, of all places!) and now we can more easily use any pay phone to call friends and relatives.  Barb talked to her dad, and I to my folks.
This evening we made contact with our nephew, Brian, via ham radio.  Radio propagation conditions were just right–he sounded like he was right next door!  We've set up a radio schedule for future contacts: Barb and I will be listening to 7280 mHz at 7:00 p.m. PDT daily, whenever our shipboard schedule permits.
So today was productive, but tomorrow it's time to start moving again.