Date/Time: Saturday, September 13, 2014
Location: Fury Cove
Weather: Clear, Calm, Warm
Today was easy, if a little long. We waited for the Shearwater Grocery Store to open (9 am) and then departed at 0940 hours. We ran the engine up to 2200 rpm and it stayed there until 1745 hours when we dropped anchor in Fury Cove.
Our route took us out Lama Passage to Fitz Hugh Sound, past the Addenbroke Light Station, to Fury Cove. Tides were with us most of the time, and seas were calm except for a short stretch where the inflow winds from Hakai Passage ruffled Fitz Hugh Sound into a three-foot chop.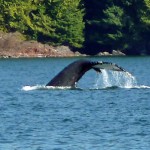 At the light station a whale was giving a great show, splashing the water with his flippers and jumping out of the water. Most interesting were two people in a small (18-foot) Lund skiff that was loitering nearby. It was so close that we could compare sizes, and the whale's flippers appeared as long as the skiff! The whale was still giving a good show as we continued into the distance.
Fury Cove is a popular anchorage for many reasons. It is beautiful, looks out on Queen Charlotte Sound, and is strategically the best jumping-off point for boaters who are southbound, crossing the sound. From our boat we can look out between the rocks and see the conditions outside.
Elsie's favorite pastime here is running lickety-split on the fine white shell beach, a nice change from rocks and barnacles.
###